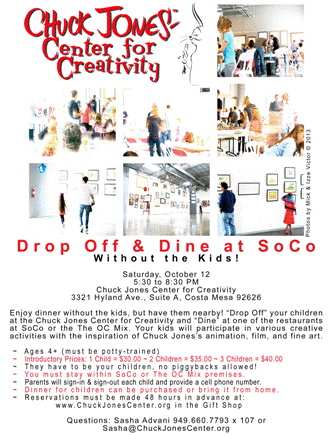 Join us for our next Drop Off and Dine! Saturday, October 12 at 5:30-8:30pm
Enjoy dinner without the kids, but have them nearby! "Drop Off" your children at the Chuck Jones Center for Creativity and "Dine" at one of the restaurants at SoCo or the The OC Mix. Your kids will participate in various creative activities with the inspiration of Chuck Jones's animation, film, and fine art.
-Ages 4+ (must be potty-trained)
-Introductory Prices: 1 Child=$30.00, 2 Children=$35.00, 3 Children=$40.00
-They have to be your children, no piggybacks allowed!
-Parents must stay within SoCo or The OC Mix premises
-Parent will sign-in & sign-out each child and provide a cell phone number
-Dinner for children can be purchased or bring it from home
-Must register 48 hours in advance. If the program doesn't meet the minimum required, you will be given a full refund.
-Minimum 3 registered families required, otherwise program will be rescheduled
-When registering, include your child or children's names and ages in the comment box upon check out.
Chuck Jones Center for Creativity
3321 Hyland, Suite A
Costa Mesa, CA 92626
REGISTER TODAY! CLICK HERE
Questions: Sasha Advani (949) 660-7793 x107 or Sasha@ChuckJonesCenter.org